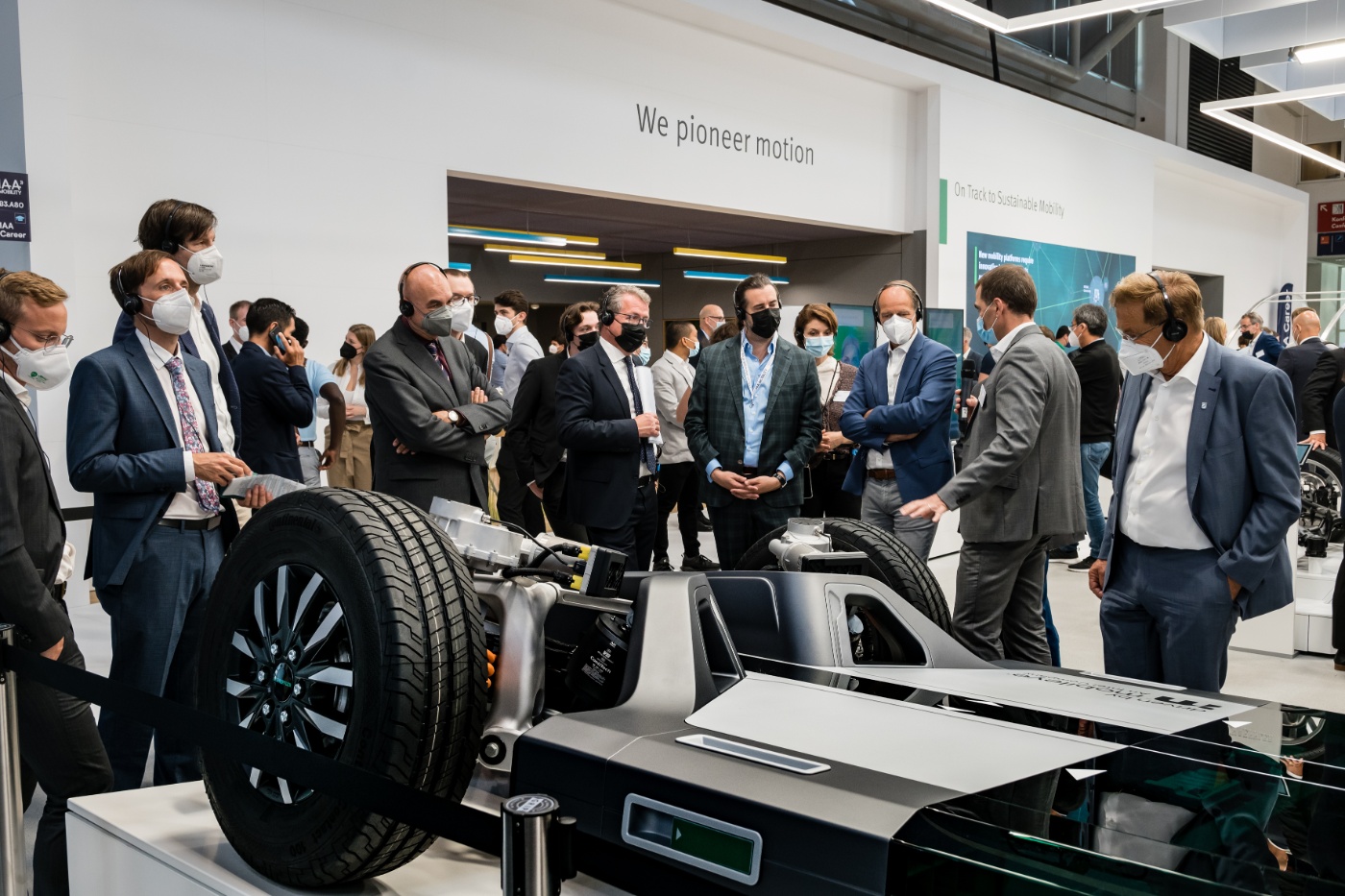 IAA Formats
IAA Summit
IAA Summit – for Mobility Professionals. The most important sectoral meeting for all relevant stakeholders and decision-makers in the mobility sector.
IAA Summit – for Mobility Professionals. The most important sectoral meeting for all relevant stakeholders and decision-makers in the mobility sector.
The IAA Summit is more than a classic B2B event. Future-oriented visions and developments of leading international companies meet the public and numerous representatives from a wide variety of sectors. In this way, innovations can also be discussed in a social and political context such as solutions for smart cities or urban and rural mobility.
From Tuesday, September 5, 2023 to Friday, September 8, 2023, the IAA Summit will take place at the Messe Munich exhibition center. On Monday, September 4, 2023 the press day will take place with national and international media representatives.
Planned in varied halls, with a comprehensive mix of exhibitors, there is no separation between the various areas. For example Automotive stands alongside Data & Tech in a row with Cycling & Micromobility, for which there are specially designed offers.
Startups can be found in the Startup Area and right next to the Mobilitython, the hackathon for the mobility scene. For Startups, there are special opportunities for participation as well.
In addition to dialogue and networking areas, theme islands and networking events, the IAA Conference will take place at the IAA Summit. With over 500 visionaries, speakers and decision-makers on three stages, this is the ideal platform to put your core topics on the agenda of the global mobility community.
Participate in the leading industry meeting in the field of mobility and register here for the IAA Summit.
To give you a more detailed overview of who can be found at the IAA Summit you can find our target groups here. Are you or your desired contact a part of one of the target groups? Then the IAA Summit is the ideal place to go for you!
Automobile industry
Bicycle industry
Micromobility
Technology & Digital
Suppliers
Infrastructure and urban planning
Entertainment
Public transport
Media Mobility as a Service
Energy industry
Urban Air Mobility
Finance
Charging infrastructure
Telecommunication
Consulting
Strategy department
Product development
Sales
Marketing & PR
Neighbourhood development
Press
M&A
Purchase department
Design
Production
HR
CSR
Legal
C-level
Founder
Head of & manager positions
Young (professionals)
Startups
Investors
Associations
Organizations
Institutes
Science
Political decision makers
ESG organizations
NGOs
Authorities
Representatives of the federation & the government
Cities & regions
Science / Research
The IAA Summit is the only platform for holistic mobility. Meet representatives and market leaders from all industries. Discuss current trends and focus topics and actively shape the future of mobility. Through our specific offers and formats you will receive extensive participation opportunities to place your visions and opinions at the IAA Summit.
An important component of the IAA Summit is networking. Through our matchmaking app, our lead management tools and the numerous events on site, you can get in touch with trade visitors, competitors and politicians.
The IAA Summit has a high political relevance, so that political representatives from all over Europe will be represented. The most important tools here are the opening event as well as political tours, where you can address and discuss specific topics directly at your stand. Accompanied by media representatives, this not only increases local interest, but also media reach.
Due to the possibility of addressing international trade visitors as well as competitors and potential customers, the IAA Summit is the ideal place for qualitative lead and business generation. Media reach and an attractive platform offer a good framework to strengthen content and brand image.
At the IAA Summit, numerous national and international media representatives will be present to report directly on innovations and news. Press tours and media partnerships ensure a strong media reach and an attractive platform. Use the stage of the international press for your premieres and visions. The attractive design offers the possibility of optimal content generation and a push for your own brand image.
The IAA Summit offers many opportunities to pass on knowledge and to maintain it yourself. Show off your innovations at events and premieres. Get to know new ways and opinions in the extensive conference program. Approach new partners and trade visitors in the networking areas. Take advantage of the included ticket packages and bring important specialists from your company with you and become part of the most important meeting place for the mobility industry.
Classic participation (own booth design or stand packages)

The general stand rentals with own booth design can be found here.

The stand packages for the IAA Summit reduce your organizational effort for the stand construction to a minimum. Choose between two different stand construction types to find the solution that suits you best.

Integration of exhibitor events
Sponsoring of dialog areas for the exchange with visiting professionals
Content creation as a speaker at the IAA Conference
Participation at the IAA Mobilitython
Registration as a Startup in the Startup area
Sponsoring of events to connect startups and investors