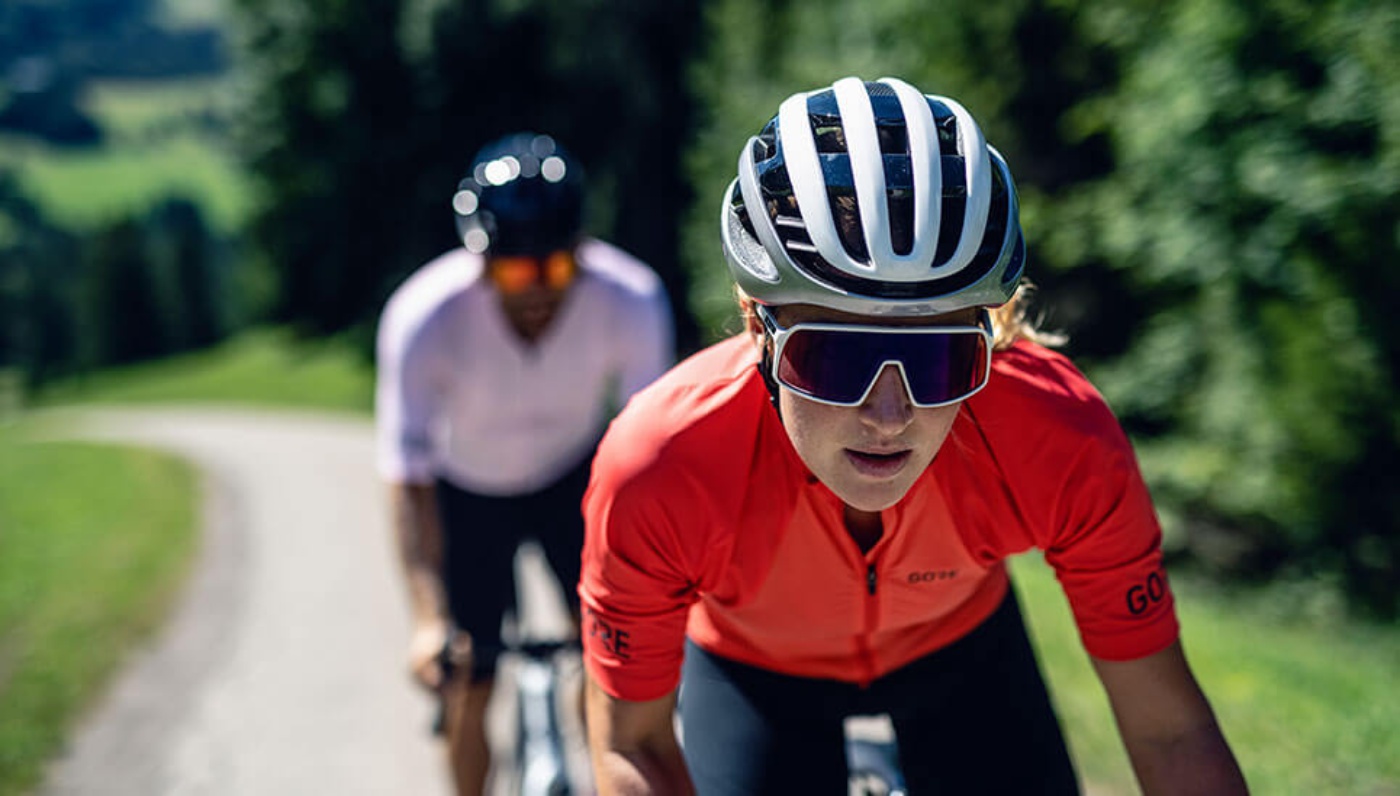 News
Helmet thanks!
Unpopular, but irreplaceable as a savior in an emergency: the bicycle helmet. How to find the right model and what manufacturers are doing to offer two-wheeled enthusiasts comfort and safety at the same time. Photo: © ABUS
Unpopular, but irreplaceable as a savior in an emergency: the bicycle helmet. How to find the right model and what manufacturers are doing to offer two-wheeled enthusiasts comfort and safety at the same time. Photo: © ABUS
A cycle helmet does not have to be expensive to protect your head against impact. But the presumed lack of comfort and the lack of "cool" are often pretexts for riding without one. But modern examples not only have a lot to offer, but also look good too. We explain why now really is the right time to buy a cycle helmet.
Safe, but unpopular: The cycle helmet has a bad reputation. According to one survey, most cyclists are bothered by the fact that it is uncomfortable, that it causes you to sweat, it looks unattractive, and it destroys your hairstyle. Around one in five of those taking part in the survey are actually secretly embarrassed by it.
Debates on mandatory helmet-wearing generally remain unresolved
Be that as it may: It is pretty well self-evident that a helmet reduces the risk of serious or deadly head injury. For some time now, discussions have been ongoing as to whether mandatory wearing of a helmet is sensible – but so far, without result. Studies show that this can lead to significantly more people wearing a helmet – but also to fewer people riding a bike. It seems the prospect of wearing head protection dampens enthusiasm for cycling.
But the image of the cycle helmet is often based on outdated clichés: Modern head protectors are not heavy, giant styrofoam teardrops in garish colors that sit awkwardly on your head – they are genuine high-tech products.
How the bicycle airbag works. © Hövding
The most innovative helmet is not a helmet
One of the biggest innovations when it comes to cycle helmets is not a helmet at all – it's an airbag, designed for anyone who wants to protect their head but doesn't want to wear anything on it. The airbag is called Hövding, it comes from Sweden, and it is like a thick scarf, worn around the neck. In the event of an accident, the airbag is activated, and the cushion of air is deployed around the neck and head within 0.1 seconds. In an extensive helmet test, ADAC examined the Hövding in the laboratory and arranged for a stunt-man to crash at high speed into an open car door. The images are impressive and demonstrate what is technically possible. ADAC certifies that it offers "excellent protection against head injuries", but also sees some weaknesses. That's because some questions remain unanswered: Does the airbag really work in every accident? Are there accidents that the Hövding does not recognize as an accident
One apparent issue with the Hövding is surely the weight. At around 800 grams, the cyclist is carrying significantly more weight, compared to wearing a conventional modern helmet. And at EUR 300, the Hövding is not cheap either. A further issue is that, once triggered, it cannot be reused. Against that, your head is kept free in the summer, and the wind can blow through your hair as you ride along. Although you do have to accept having the warmth of a winter scarf around your neck.
If your preference is for a conventional helmet, then many models are manufactured in impact-resistant materials using the latest production methods, allowing for shapes with larger air slits. The Abus Viantor QUIN, for instance, features an attractive four air inlets and 14 air outlets. Helmets costing around EUR 100 also all offer good options for adjusting the helmet, allowing the head protector to be adjusted individually to the shape of the head. But good models can also be found for EUR 50 – although these are non-adjustable, more bulky and not so well ventilated.
Finding the right helmet: Recommendations from ADAC
ADAC recommends trying the helmet on before buying it, to make sure that it is a secure fit. Even the cheapest helmet protects the head against the consequences of a fall, but it absolutely must be sitting correctly on the head.
To ensure the best possible visibility, the helmet should be equipped with LED lighting and reflective elements. It is also sensible to opt for a bright design in striking colors, ADAC writes.
Following a fall, the helmet must always be replaced: There could be damage which is not visible. As a result, the protective function of the helmet is partly or completely compromised.
Smart cycle helmets with an emergency call function
One point where the more expensive models stand out from the cheaper ones is in having an in-built emergency call function. Smart cycle helmets from Specialized, Uvex and Abus offer this. Each provider has its own system for this, but in principle they all work in a similar way: A sensor in the helmet registers extreme accelerations (g-forces), and sends a signal to the connected smartphone via Bluetooth. A countdown then starts, giving the cyclist the opportunity to react. If the cyclist can do so, for instance after a light fall, then the process can be halted. If the cyclist is not able to respond, the smartphone sends an emergency call to stored contacts, giving the precise GPS data. It means that no-one need fear lying out there somewhere, alone and injured. It is also possible to retrofit an emergency call function. Tocsen has devised a smart solution for this.
Good helmets are also equipped with mips technology. Mips stands for Multi Directional Impact Protection System, and it is designed to reduce the harmful rotational forces that can be generated in the event of an impact. The key feature of this technology is the mips liner in the helmet, permitting movements of 10-15 mm and thereby absorbing the impact. All major manufacturers have their own developments, all taking the same approach. Trek and Bontrager have developed WaveCel , for instance, Leatt has its 360 Turbine system, and POC has SPIN technology.
A helmet with technology from Tocsen. © Tocsen
In recent years, therefore, a lot has happened: Whereas cycle helmets only protected your head in the past, today they will even phone for help. But above all, nowadays no-one needs to be ashamed of an ugly helmet or to sweat excessively under it. And if you really don't fancy anything covering your head, you can always use the airbag.