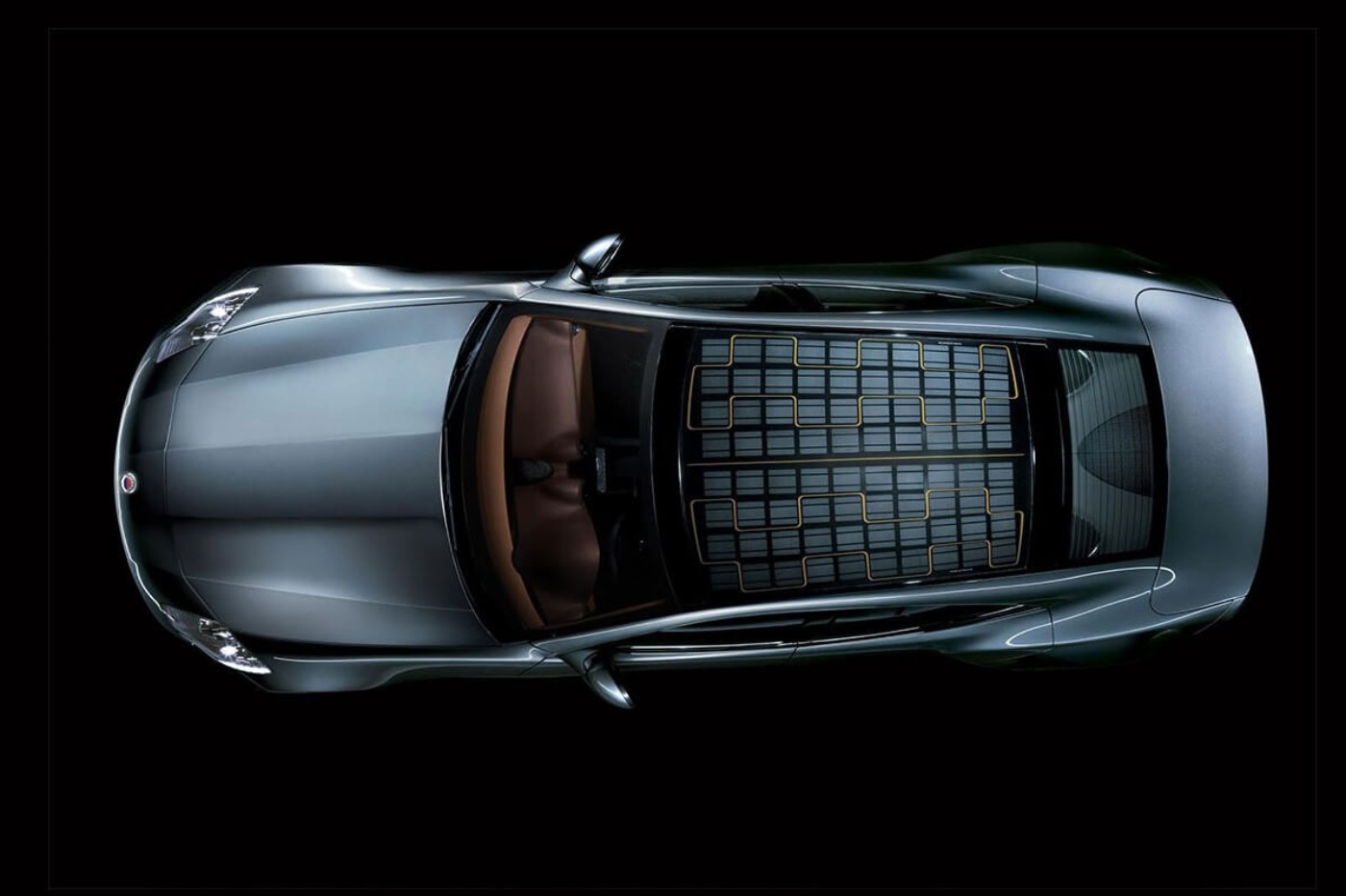 News
Transparent, flexible and organic – new solar cells for the car roof
Expensive, elaborate, tricky to integrate – despite their great potential, solar panels on car roofs have enjoyed a problematic reputation up till now. But with the development of flexible and invisible solar cells, all that could shortly change.
Sales of e-cars and hybrids are booming: whereas the share for newly-registered e-vehicles in Germany was just 7 per cent in 2019, in 2020 it rose to just over 13 per cent. A trend that plays an important role in the overall strategy to decarbonize the mobility sector, presuming it is based on the use of green power. E-cars with fitted photovoltaic (PV) cells can help in that, as they produce energy using the power of the sun. Whether on the roof, on the engine hood or in the windshield – new technologies are aimed at making practically invisible, ultra-efficient integration of solar cells possible. For e-cars, that would mean additional range and even greater independence.
An old idea given a fresh polish
The idea of running e-cars using solar panels is not new. The first attempts at it can be traced back to the US engineer Charles Alexander Escoffery, who was already experimenting with this concept in 1956. Since then, many well-known car manufacturers have followed in his footsteps. Whether Mercedes, Maybach or Volkswagen – there have already been many drivable prototypes with integrated solar panels (for a fuller overview, see here). However, very few of them have made it through to mass production. At present, Toyota is the only manufacturer with a car on the road that uses solar panels. It is the Prius Plug-in, a series-produced car which can be ordered with an optional solar roof. The equipment variant, worth just under 3,000 euros, provides an additional range of around six kilometers per day. And there is even more: A prototype from Sono Motors, a Munich-based start-up for solar cars, is capable of a total of 34 extra kilometers per day. A decent increase in range, which shows how much potential the technology has. However, Sono Motors' car has not yet made it beyond prototype status.
Sono Motors covers its prototype with solar panels wherever possible. © Sono Motors
A fate that the car shares with many others. But why are solar cars still not successful on the market, despite their potential in terms of range? The reason: In addition to the costs and the complex integration of the solar panels, the main reason is probably the high design demands of buyers. But solutions for this already exist, as German technology companies and research institutes are showing. However, that is a problem which can be overcome, as German technology companies and research institutes are demonstrating. Whether behind special paint finishes or hidden in the glass – the solar cell of the future stands out through being invisible.
Invisibly to break-through?
Cars are more than just functional objects. Their design also plays an important role – which doesn't exactly make the safe and most efficient installation of solar panels any easier. For this reason, the Fraunhofer Institute for Solar Energy Systems (Fraunhofer ISE) has developed a new coating technology. Using it, solar cells can be integrated practically invisibly into the outer shell of vehicles. The masterstroke is that the solar cells disappear behind a paint finish which allows a large part of the sunlight to pass through, whilst also radiating light to the outside in dazzling color. All this is achieved by exploiting an interference effect whereby only a very narrow range of wavelengths in the light is reflected. The rest pass through the coating and are absorbed by the solar cells. It's a trick that the Freiburg-based researchers observed in the American Morpho butterfly and have introduced into proprietary panoramic glass roofs, along with laminated solar cells.
FraunhoferISE installs its invisible solar panels in commercially available panorama roofs. © ISE
According to Fraunhofer ISE, the coating – known as MorphoColor – can be produced in any color, and with high saturation. It should only reduce the efficiency of the solar cells by an average of seven per cent, compared to solar modules with conventional glass coverings. After the ISE exhibited the invisible solar modules as early as 2019 at the IAA, the development is entering a next research phase. For this purpose, 100 vehicles have been equipped with the invisible solar panels and are undergoing a three-year practical test. The data from the study is intended to provide realistic long-term values, and might make it easier for manufacturers to take the step to using the technology in the mass market. Whether or not that is the case, the researchers' premise is that their solar roof can provide energy for a distance of up to 10 km, on a sunny day.
Whether flexible or transparent, on the roof of a car or above it - organic solar cells bring many new application possibilities. © LABOR3 Architektur
Organic solar cells: semi-transparent, fully inspired
The Dresden technology company Heliatek is taking a completely different approach. As a leading international manufacturer of organic solar cells, the TU Dresden spin-off specializes in the manufacture of solar films. The flexible films are ultra-thin, light and based on carbon compounds which are significantly cheaper and more sustainable than the materials in conventional solar cells. The technology is already being successfully used on the façades of homes and buildings. Heliatek has been mass-producing the flexible films since 2020. As they can readily be glued onto a wide range of materials, the films are also suitable for use in vehicles – and not just on the roof or engine hood, but also in the glass. It's all made possible by something called opaque cells, i.e. organic semiconductors which only absorb a certain part of the incident light, allowing the rest to pass through. And it's a technology which has even caused the Fraunhofer ISE in Freiburg to sit up and take notice. It has a project team currently dedicated to investigating the possibility of installing organic solar panels over motorways. According to ISE engineer Martin Heinrich this is still some way off, but the example shows that the new solar technologies are enabling wide-ranging potential applications beyond the conventional approaches.
(Stage photo: © Fisker Automotive)